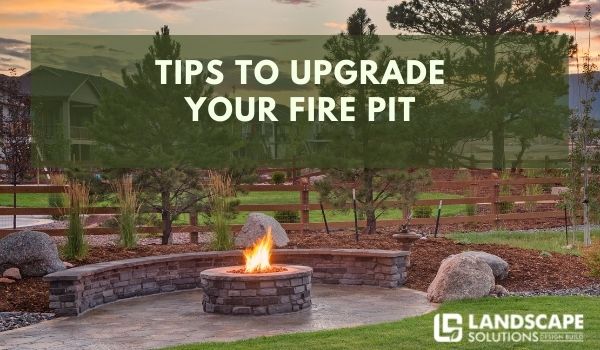 A fire pit is the focal point of a homeowner's backyard — It is also the fiery call that brings friends and families together and inspires them to build lifelong memories. 
Whether your aesthetic is minimalistic or timeless luxury, there are hot upgrades you can make to your fire pit that will enhance its physical allure and offer up significant practical advantages. 
Here are simple but powerful improvements you can make to your fire pit to stage a yard that glows, literally.
Elegant Wind Guards
You no longer have to worry about a windy summer evening dimming the flames of your fire pit. Wind guards not only protect your fire, but they help it burn brighter and warmer than before. 
They act as a shield made of tempered glass, designed to allow a finite amount of air circulation for a thriving fire, and can withstand the roughness of the elements while looking exquisite in the process. 
Stylish Vents
If you own a propane fire pit, proper ventilation is imperative to keeping your fireside gatherings a safe endeavor. But safety doesn't have to be boring!
You have the option of taking a more artistic route with your air vents to make them as ornate or sleek as you like. And the good news is, installation for these fire pit statement pieces is quick and easy with the help of a pro. 
Fire Pit Ornaments 
We can bet you didn't think you could decorate your fire pit any further, but you can! You can add ornaments to your pit, similar to a Christmas tree ornament, only this one you can keep year-round. 
These flame accents add a ton of flair to your fire pit, transforming the ambiance from an outdoor spa retreat with a set of smooth steel baubles to a spectacular light show with a fire tree; the power is in your hands. 
Smart Built-In Ignition Systems
These fire pit upgrades are more functional than attractive, but they're sure to make your get-togethers a much more pleasant experience. You may have experience with a manual fire starter that has probably caused one too many people to singe their fingertips. However, you can say goodbye to unnecessary burns with a push-button ignition system. 
Trust us; you'll be throwing out that box of matches the second you see you can turn your gorgeous new fire pit on with a remote.
Book a consultation with the designers at Landscaping Solutions today to discuss how we can forge the yard of your dreams.