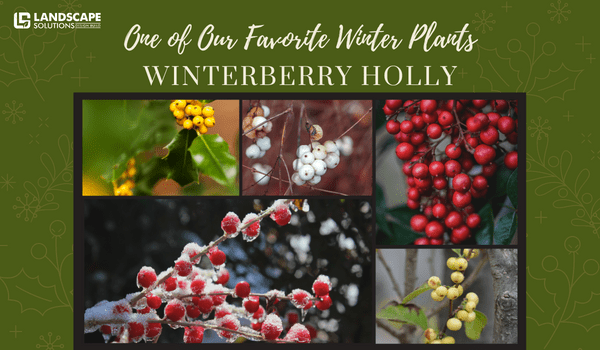 Except for pine and fir trees, when we think of winter and plants, we often think of bare trees, empty flower beds, and generally dreary conditions. Luckily for us, it's not all bleak and gray! Today we want to highlight one of our absolute favorites: Ilex verticillata — the winterberry holly. Let's learn more about this versatile, native plant.
The stunning beauty of winterberry holly is a much needed break for our senses over the cold and seemingly lifeless winter. Unlike other hollies, which often have glossy evergreen leaves that stay on throughout the colder months, winterberry holly is a deciduous plant. 
Each fall, it drops its leaves, leaving the berries exposed. All along its branches you'll see berries dangling in thin strands — a sight not to be missed!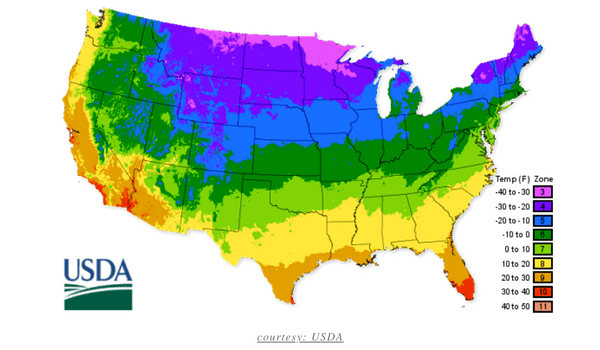 The winterberry holly is a wonderful plant, with a broad geographical range. You can usually find the Ilex verticillata in low grounds, woodlands and marshy environments, as well as in higher, dryer areas. It's most commonly found in moist soils, but it can also grow quite successfully in average soil.
Winterberry holly grows over a huge swath of North America–eastern Canada all the way through the southern US, and as far west as Texas – so it is very hardy as well as very heat tolerant, making it a perfect plant for Nashville.
This plant is easy to grow and succumbs to very few serious bug infestations or plant diseases. It ranges in height from 3 feet to 15 feet, and can also vary in width depending on whether it grows in wet or dry soil.
Winterberry holly, like all holly varieties, is a dioecious plant, which means that it comes in female and male varieties.
The Beauty is the Berries

When people see winterberry hollies (Ilex verticillata) free of their leaves, they're immediately intrigued. These native shrubs are stunningly beautiful at the dreariest time of the year.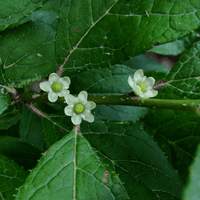 Winterberry holly doesn't really have show-stopping flowers, but it does bloom. Both the male and female plants produce small, inconspicuous white flowers In autumn, and the females develop colorful berries where those tiny flowers once bloomed. 

Compared to the classic Christmas holly, this plant loses its leaves every fall, which makes its crop of bright red or yellow berries even
more striking. Long branches hold clumps of small but plentiful berries that last well through winter. 
Planting the Best Type for Your Space
To get a beautiful, berry-covered winterberry holly, you must plant both male and female plants. A single male winterberry holly plant produces enough pollen to germinate 5 female hollies.
You'll want to start by selecting a female plant with the qualities you love. Consider:
The color of berries you want, (bright red or gold)

Your space and how big the plant is likely to grow,

Size and amount of berries produced by the plant
Seeking the assistance of landscape professionals to choose and then plant your Winterberry Holly can ensure that you choose the best variety for your space and your vision.
A Match Made in Heaven
Once you've decided which type of female you'd like in your space, you will need a male variety that has compatible bloom times. Winterberry hollies typically have two bloom times: early and late, but there are variations within that. 
While the difference from one type to another may only be a week or two, that bit of time can make all the difference in whether your plants bloom, so it's important to plant males and females from the same group. You can take it a step further and plant males and females from the same genetic line, though that is not strictly necessary.
If you want to plant several female winterberry hollies to get a show-stopping effect within your landscaping, you only need to ensure that there is space for the male plants within 50 feet of the females. You can place the females together and the male somewhat out of the way to keep the visual aesthetic you're striving for.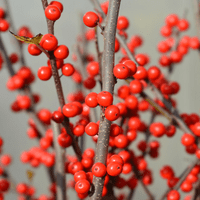 As long as you have at least one male for every 5 female winterberry plants, you can have vibrant plants that give stunning color all year round.
If you'd like to add the beauty of winterberry hollies to your landscape design, contact the professionals at Landscape Solutions. We
have the knowledge and experience to create the space you're dreaming of.
Using Winterberries In Your Landscape Design In Nashville TN
If you're in the Nashville area and ready to beautify your outdoor living space, contact us. As seen on HGTV, our landscape designers and installation crew are ready to tackle jobs big and small.
At Landscape Solutions, we're passionate about creating outdoor spaces that fit your lifestyle. Contact us online or call (615) 852-5009 today to schedule an appointment.