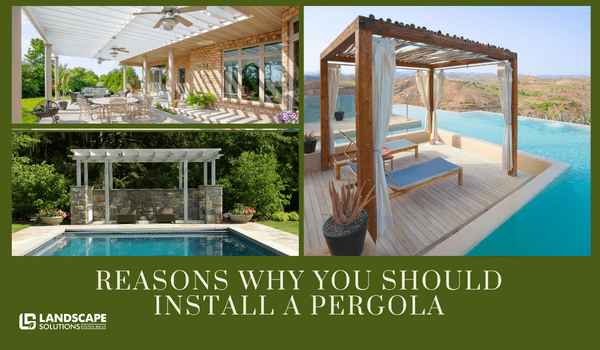 On a hot summer day, there's nothing quite like sitting in the shade of a pergola to beat the heat and enjoy the outdoors. In addition to providing shade, pergolas can also add visual interest to your outdoor space and provide a place for climbing plants to thrive. Whether you're looking for a way to stay cool on a hot summer day or simply want to add some charm to your garden, a pergola may be a great edition to your home.
If you're in the Nashville area and ready to beautify your outdoor living space, contact us. As seen on HGTV, our landscape architects and installation crew are ready to tackle jobs big and small. Request a consultation.
 Why Install a Pergola?
 There are several reasons to put a pergola on your property. A beautiful blend of function and form, pergolas can add a lot of great features and benefits to your space.
 

Shade

One of the main functions of a pergola is to provide shade. Whether it completely blocks out the sun or simply diffuses it, a pergola can create a space where you can enjoy your outdoor oasis without the heat and glare of the sun. You can choose to install a permanent or retractable roof or simply place the slats on the roof closer together to get the amount of shade you want.
 

Privacy

 A pergola can also offer you a private space to relax or entertain. This can be achieved by adjusting the spacing of slats and supports on the "walls" of your pergola, by adding climbing plants, or simply by hanging netting or curtains that you can close when you wish.
Entertaining
A pergola is a great central focus to entertain family and friends outdoors. Pergolas can be designed not only for ample seating for your guests, but can also have space for a grill or can be a part of an outdoor kitchen or bar.
Added Value and Curb Appeal
With so many options for style, design, and purpose, a pergola is a great investment in your property. As a permanent structure, a pergola is not only a way to beautify your space, but also to add value to your home. 
A few more things
There are a few other benefits to installing a pergola:
Office 2.0:

With so many of us still working from home, a pergola can be a great extension of your office space, allowing you to work while enjoying the outdoors

Upgrade a space:

If you have a pool, hot tub, outdoor kitchen or fireplace, a pergola can be integrated into the existing structure, giving it a brand-new appeal

Define your outdoors:

Adding a pergola can create well-defined areas in your outdoor space. For example, they can offer a distinction between areas for dining or entertaining and a place for kids and grown-ups to play.
Types of Pergolas
Traditionally, a pergola was used to support climbing plants, but today they are more commonly used as an outdoor structure to provide shade or as a decorative element in the garden.
There are many types of pergolas to choose from, and the best one for your space will depend on its intended use. If you want a pergola that will provide shade, then you will need to choose one with an enclosed roof or a roof with closely spaced lattice or slats. For a decorative pergola, you need not worry much about the spacing of the slats.
When choosing a pergola for your space, you will also need to decide on the material. Wooden pergolas are the most popular choice, as they blend in well with natural surroundings. However, metal and stone pergolas are also available.
Large or Small?
Pergolas can be almost any size you can think of. You can create a cozy reading space with a wooden bench tucked away in a garden space with its own pergola protecting it from too much sun. Or maybe you'd love a large, freestanding pergola for entertaining, or something in-between.
Location, Location, Location
The best location for a pergola is dependent on several factors. Do you want to integrate it with other structures? How big do you want it to be? Will you use it for entertaining, as a quiet retreat, or both? Where you place your pergola is limited only by your imagination and your property line!
 By the Pool
A popular option for many homeowners is to add a pergola by the pool, providing much-needed shade on hot summer days, making them the perfect spot to relax.
Over the Kitchen
If you have an outdoor kitchen, a pergola can add both function and beauty. In addition to its aesthetic value, a pergola can also help to protect your outdoor kitchen from the elements. By adding a pergola with a retractable roof to your outdoor living space, you can enjoy all the benefits of cooking and eating outdoors without having to worry about getting rained out. 
On the Deck
Adding a pergola to a deck or patio makes a great addition to a space that is already loved and used. It can offer a bit of shade, allowing you to enjoy the space even when the sun is beating down. It creates a unique space for seating and can be a perfect spot for a fire pit.
In the Garden
Perhaps you'd like an escape that places you within the natural beauty of your garden. A freestanding pergola can be placed in the serene beauty of your garden, whether it is untamed or meticulously designed. Just add a beautiful stone path and you can enjoy time in your own private oasis.
Getting Started
Pergolas can be an attractive addition to any landscape. With their distinctive roofs and columnar support beams, pergolas make a statement. Whether you're looking for a simple structure or a more elaborate design, Landscape Solutions has the experience needed for designing and building custom pergolas for Nashville homeowners. We'll work with you to create a pergola that meets your needs and compliments your home's style. Contact us today to get started on your custom pergola project!
 About Landscape Solutions
We're passionate about creating outdoor spaces that fit your lifestyle. If you live in the Greater Nashville Metropolitan area, contact us online or call (615) 852-5009 today to schedule an appointment.