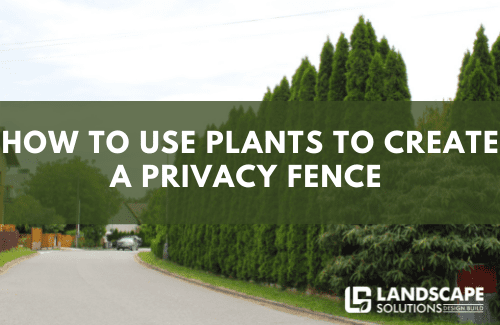 When you're enjoying your outdoor space, you may not always want to have a conversation with a chatty neighbor. Whether you want a little privacy or some much-needed separation between your home and the rest of the world, consider adding a privacy fence. Traditional fences do the job, but tend to close up your space rather than enhance it. Instead, you can use plants to create a beautiful and functional privacy fence. From hedges to ornamental grasses, there are plenty of options for using plants to create privacy in your outdoor space.
Trees and Shrubs
When it comes to privacy, planting the right type of tree can create a beautiful, natural fence on your property. Choosing trees that grow with more dense features like evergreens can create a complete separation of space. Some great options for this type of plant fence are Arborvitaes and Hollys. Depending on how much space you allot for your privacy fence, you can plant your trees in tight rows or space them out to create a unique pattern. If having high plants in your space is an issue, you can opt for a shorter shrub. Shrubs also have the density needed to create a complete plant privacy wall in your space. 
Tall Plants and Grasses
A popular and unique plant to use for privacy is bamboo. Bamboo grows quickly in dense clumps and grows quite tall. Since bamboo takes over spaces, growing it in large planters can prevent it from growing out of control. Line up the planters, and you have a beautiful screen perfect for sectioning off your outdoor space. If bamboo isn't quite your style, you can use ornamental grasses instead. Planting large ornamental grasses in rows can replace the need for trees and shrubs. You can also place ornamental grasses in large planters for a more refined look. Using planters and tall plants allows for a lot of flexibility in the aesthetic of your outdoor space. It also opens up doors to use a large variety of different plants. You can even customize your planters with local flowers like lemon mint for a nice pop of color in the spring. 
Living Walls
For the ultimate plant-based privacy fence, we can help you design and create a living or flowering wall. This is a fence built-in with flowering plants or ivy. Although a living wall may only create privacy in three seasons of the year, it is sure to be a showstopper in your outdoor space when it blooms. You can also create a wall like this to hang various types of ivy if you have a smaller space where large trees or plants wouldn't make sense to plant. 
No matter what type of privacy fence you are looking for, we are more than happy to help you with your creation. From design to installation and maintenance, we can work with you every step of the way to create a privacy fence that incorporates gorgeous plants for your outdoor space.