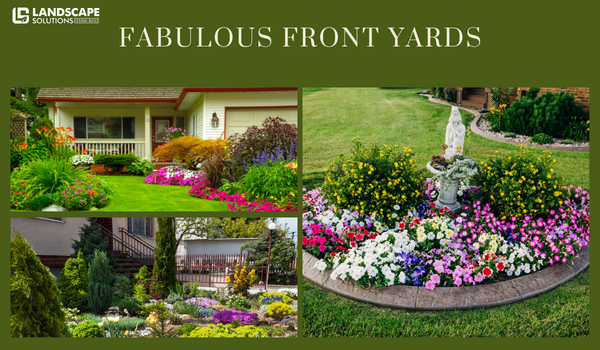 Your front yard is the first thing that people see when they visit your home, so it's important that you make a good impression! In this blog post, we will discuss some fabulous front yard landscaping ideas. We will talk about how to choose the right features and accessories for your space. So if you're ready to take your front yard from bland to beautiful, here are some ideas to spiff up your front yard and create an amazing space that will make all your neighbors green with envy!
If you want your front yard to look its best, it is worth hiring professionals. If you're in the Nashville area and ready to beautify your outdoor living space, contact Landscape Solutions. As seen on HGTV, our landscape architects and installation crew are ready to tackle jobs big and small. We will be able to create a custom design that takes into account the specific features of your property using the best plants and materials for your space and the Nashville area.
Let's take a look at some of the things that you can put in your front landscaping to create the yard that is just right for you.
Structures and Non-Plant Features
Garden structures and artistic touches aren't just for the backyard. Adding the right structure or yard art in the right place can give your front yard that one of a kind look.
Water Features
Adding a water feature is a great way to add interest to your front yard. It can also help to mask any unwanted noise from the street or neighboring properties. Installing a custom water feature that fits your space and complements your yard's aesthetic makes a great central focal point. Another option is a ready-made fountain. These come in a variety of sizes and styles, making them a great choice for all tastes and any sized yard.
Fencing
Decorative fencing can really add charm to your front yard. Fencing can also offer privacy and draw clear boundaries. Whether you want an intricate iron fence, a traditional picket fence, a split rail or other type of fence, this design element will fit a variety of styles and tastes.
Sculptures and Art Pieces
Far from the gnomes and plastic deer of days gone by, adding sculptures or art to your front yard can help to create a charming, whimsical, or elegant focal point and add interest to the space. A birdbath is a popular piece of yard art that can really add to your space. It is important to choose pieces that are weather-resistant and won't be damaged by the elements.
Arbors, Pergolas, and More
A gate is an attractive feature to place at one end of the pathway to your door and can be placed alone or within an arbor or arch.. An arbor can provide shade and be used to train climbing plants, like climbing roses, for a lovely element, and a small pergola over your garage or front porch can be a unique front yard design element. Arches can be used in a variety of ways to add appeal and interest to your front yard.
Lighting
Outdoor lighting can help to create a warm and inviting ambience in your front yard. From path lighting to porch lighting, there are many kinds of lighting that can add to the overall look and feel of your front yard. Most landscape lighting is solar, so you can have the warm atmosphere of great lighting without adding to your electric bill. A well-lit yard can also provide some security, deterring would-be burglars from targeting your property.
Rocks, Gravel, and Stones
Rocks are a great way to spruce up your front yard. Stone can be used to create a quaint pathway or can offer an easy way to break up various spaces in your yard. Adding pea gravel borders in flower beds or along walkways can create firm definition among the various elements in your yard.. Gravel and rocks can also be a functional addition when placed under downspouts. They are not easily washed away and can keep the area from becoming too muddy.
Borders
Decorative borders for gardens or the perimeter of your property can add a nice touch. They come in many materials and colors to complement your space. You can also add decorative borders around trees, bushes, or things like statuary or water features. One really beautiful option is to place a border around your mailbox and create a beautiful garden space. Using perennial shrubs and a variety of flowers will give it a great look all year round.
Outdoor Living
If you have the space, creating an outdoor living space is a great way to make use of your front yard. This can be done by adding a patio or deck area and outdoor furnishings where you can relax and entertain guests. Spaces in the front yard lend themselves to simplicity, so no need to overdo.
Plants and Trees
Flowers
Flowers can add color and life to any garden, no matter what its size. Flowers are also great in pots throughout your landscaping. When selecting flowers for your front yard, it is important to choose a variety that will bloom at different times of the year, ensuring that there is always something in bloom.
Ground Cover
Ground cover is a great way to add texture and variety to your lawn. It's also a great way to disguise any areas of the lawn that are not well established.
Trees
Both shade and flowering trees are a great addition to any front yard. Dogwoods, Crape Myrtles, Magnolias, and Cherry trees are just a few flowering trees that can add beautiful colors and any shade tree is welcome in the heat of summer. Consider evergreen trees to have a touch of green all year round.
No matter how beautiful your front yard is, it won't look its best if it is not well-maintained. Be sure to keep the lawn mowed, the edges trimmed, and water it well and consistently.
Your new landscape is a big investment. Landscape Solutions is here to make sure you spend time relaxing in it! We take time educating all of our maintenance crews, and each one is run by a team leader with horticulture experience. This sets our work apart, as we proudly provide comprehensive botanic and garden care. We offer maintenance packages, from a one time spruce up to monthly visits to keep your landscaping in tip-top shape.
We're passionate about creating outdoor spaces that fit your lifestyle. If you live in the Greater Nashville Metropolitan area, contact us online or call (615) 852-5009 today to schedule an appointment.