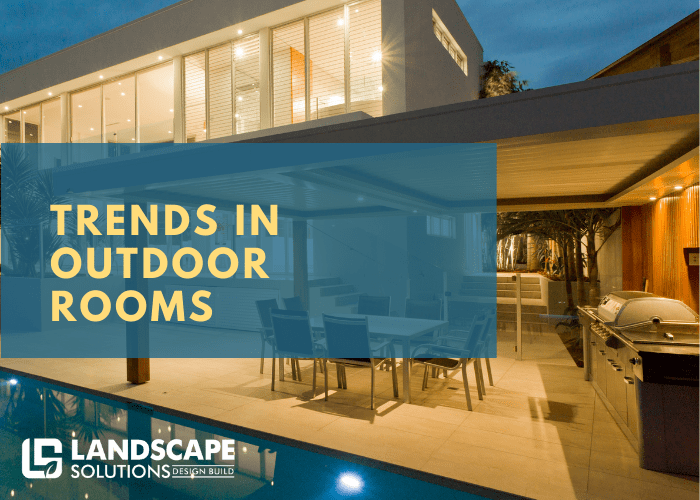 Having a beautiful outdoor space in your home is a perfect way to enjoy an indoor-outdoor lifestyle. When creating the perfect outdoor room for your property, you may be wondering what you should add to make it truly special. For a modern outdoor space with great functionality and style, check out the outdoor room trends that have emerged in 2021. 
Porches 
If you don't already have a designated outdoor space in your home, adding a porch is a great way to create a seamless flow between your home and yard. Whether it be a front porch to relax in rocking chairs or a large back porch area to barbecue on, a porch can be customized to the needs of your home. You can even create a seamless flow to your porch by installing large, sliding glass walls that open up your home to your backyard.
Patios
A patio in your yard easily creates a designated outdoor space in your yard. Using local stone for your patio not only looks great but will help bring out the beauty of your environment and complement the natural landscape. Patios are also customizable and can include outdoor features that will make them permanent living spaces. 
Outdoor Kitchens
If you already have a porch or patio, adding an outdoor kitchen is a major trend for 2021 and a wonderful addition to live an indoor-outdoor lifestyle. For the home that likes to bring people together, nothing does it better than food. Cooking this summer in an outdoor kitchen will level up your typical barbecue and make every dinner with friends and family an event. Outdoor kitchens also look great with a built-in grill and wood pergola with lights. 
Privacy Structures 
Outdoor structures can not only provide shade in sunny yards but also create much-needed outdoor privacy. Using outdoor structures provides you with an area to relax or workout in without worrying about neighbors. A mix of hardscaping, landscaping, and outdoor furniture can create an area that provides shelter from the elements while ensuring you enjoy the outdoors. You can even add drapery or landscaped plant walls to create a permanent outdoor structure for everyday use.
Outdoor Entertainment 
To truly make the most of your outdoor space, you could create an area with outdoor entertainment features. With a patio, you can add a built-in fire pit for fun summer nights. Fire pits also allow you to extend the use of your outdoor space into the fall and winter when it gets a little more chilly. Adding technology to your outdoor space can make it enjoyable as well. Consider color-changing LED lights or a portable movie screen to stream movies and shows while enjoying the outdoors. 
No matter how you want to use your outdoor rooms, we are here to help. From designing, building and landscaping, we can help you every step of the way to make sure your outdoor room is unique and functional. Make the most out of your outdoor space and enjoy the indoor to outdoor lifestyle.