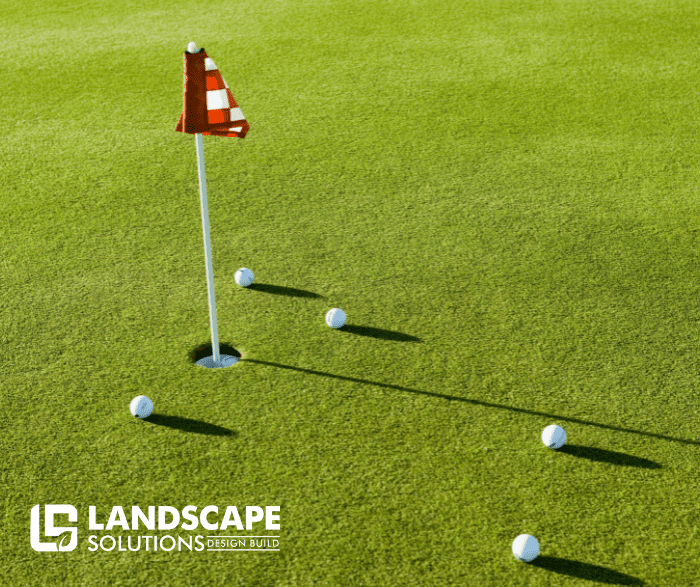 Whether you're an avid golfer or just looking for something fun to add to your outdoor space, a putting green will be a great addition to your yard! We all know working on your short game could make or break par out on the course, so why not practice in your backyard? The best part about adding a putting green to your yard is that you can work on your short game anytime you want. So check out this guide to learn how to add a golf putting green to your outdoor space. 
Materials
There are a couple of different materials you can choose from when building your perfect putting green. You could go with short grass, but that can be difficult to maintain and will need to be watered quite often. Artificial turf makes an excellent alternative. Not only is it low maintenance, but it's also easy to install and completely customizable. If you want your putting green to fit in a specific area or maybe have a unique shape, we can easily cut and size the artificial turf to fit. You will also want to think about what type of edging you would like around your putting green. You can choose from brick, concrete and even wood edging to fit the aesthetic of your outdoor space. Or, for a more natural look and feel, our team can help install your putting green so it seamlessly flows from the grass in your yard. 
Installation
It all starts with a great design. The landscape design process is a fun one because you see your dreams coming to life on paper. This is an opportunity to hone in on exactly how your upgraded outdoor living space will look and feel.  For a putting green, hole placement is a key element and will need to be thoughtfully considered based on the slope, size and construction of your yard. Before the green can take shape, the area needs to be prepped. Thankfully, this is the part where you get to relax and let our team of professional installers do the heavy lifting. From regrading to placing the last bit of mulch, we have you covered.
Maintenance
As with any outdoor living space, maintenance is the key to longevity and continued enjoyment. We offer maintenance plans for every situation so that you have one less thing to worry about. 
If you're ready to take it to the next level and turn your yard into an outdoor living and entertainment space, contact us for a free quote. We will help you every step of the way, from coming up with a great design to installation and even long-term maintenance. We love working side by side with clients to create the best outdoor features and solutions for their yards.
Our Service Area
We serve the greater Nashville area, including Franklin, Brentwood, Belle Meade and the Green Hills area.