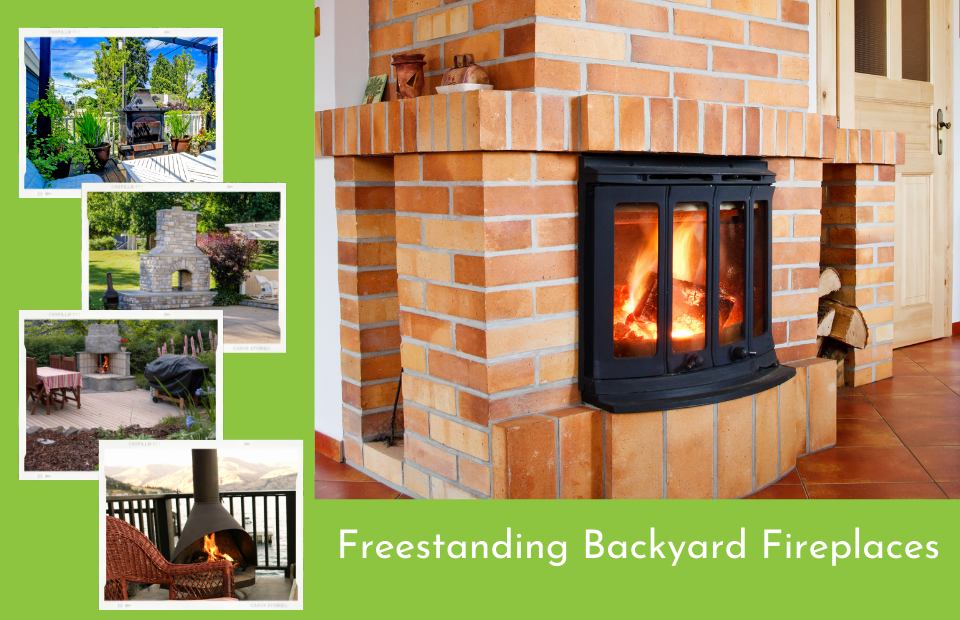 Making the most of your outdoor space isn't always easy. . For example, your backyard might be difficult to maintain or there isn't anything truly unique to lure you outside. 
Implementing functional outdoor pieces is a great way to start using your outdoor space and creating a new area that is an absobing part of your home. One of our favorite ways to transform a backyard is to install a freestanding fireplace. Not only are these pieces beautiful on their own, but they can create a welcoming space for you, your family, and friends to enjoy year-round. Here is some inspiration to help you choose the best freestanding backyard fireplace for your needs.
Off the Patio
If you already have a patio in your backyard, you can seamlessly install a freestanding fireplace that is cohesive to the aesthetic of your outdoor space. Using similar stones as your patio can make the fireplace look like it was built in from the start. Stone fireplaces are timeless pieces and will look good no matter what kind of seating you have in your backyard. Using local stone can help your fireplace blend in with the natural scenery of your yard. A freestanding stone piece will elevate your outdoor space and create a natural gathering place in your yard.
Freestanding Steel 
Steel outdoor fireplaces can warm up outdoor spaces or screened-in outdoor rooms. These fireplaces are generally a bit smaller than their stone counterparts  and are great  for most spaces. They work well in grassy areas, on patios, or in outdoor room setups. These are great choices for cozying up on chilly nights and taking advantage of the flow of an indoor/outdoor living space. Steel fireplaces come in endless shapes and sizes, and you can work with local artisans to craft the perfect addition to your outdoor space. This is a great option if you are looking for a fireplace for a smaller space or one that you can move around rather than a built-in option. 
Two In One 
If you have a very large outdoor space, a double-sided freestanding fireplace provides 2 distinct areas. The fireplace will be the focal point of your backyard while also sectioning off the area to use in various ways. You can use this type of fireplace to divide an outdoor dining area from a lounge setting. Perhaps you'll consider a multi-use fireplace that comes with a built-in pizza oven, combining entertaining and cooking at the same time. Roasting marshmallows is one thing, but putting your cooking skills to the test is an exciting way to make the most out of a freestanding fireplace. 
Installing an outdoor fireplace is the perfect way to make a backyard space feel cozy yet elevated.  Whether you want a focal piece for your space, or want to add an outdoor area you will use frequently, an outdoor fireplace makes a great addition. You can choose a wood-burning or gas fireplace, but no matter which you choose, working with a professional team will ensure the installation goes smoothly and any safety concerns are met. We can't wait to work with you on designing and installing a fireplace that will turn your backyard into a relaxing night time retreat.